Build your brand with webinars
Welcome to Enbecom Studios. Our mission is to empower your brand, business, or organisation with engaging, impactful live events that resemble television broadcasts rather than generic video calls. Virtually wherever you are in the world, our technology brings you and your contributors together, delivering a seamless, professional experience for your audience.
Our operation combines industry expertise with pro hardware, integrating key elements you don't find in basic calls, which breathe life into your content. With our dedicated kit linking directly to Zoom's systems, each contributor has a unique line into our mixing desk, ensuring a smooth, cohesive presentation.
From live interviews to screen sharing, demonstrations, presentations, quizzes, and even live polling, the possibilities with Enbecom Studios are limitless. If you have an idea, we can bring it to life. Got a website or mobile app to showcase? Want to intersperse your webinar with pre-produced videos or interactive polls? Consider it done.
As a versatile production company, we're proficient in streaming your webinars to all major video hosting sites and social media platforms. Additionally, we're compatible with Restream.io, letting you reach diverse platforms simultaneously.
Enbecom Studios is not just about live webinars. Our comprehensive service range includes creating captivating opening titles, animated name straps, logo stings, information slides, and maps, right down to closing credits. Need a full-length feature or a professional presenter for your webinar? We've got you covered.
Finally, we understand the lasting value of your webinar. That's why we record each event as live, ensuring it's polished and primed for your use post-event. From adding it to your website to creating social-friendly soundbites and highlights packages, we'll help you extend your reach well beyond the live broadcast.
Your hunt for webinar production companies leads to us. Experience the Enbecom Studios difference today - for a powerful, memorable live webinar experience that resonates with your audience, look no further. Let's bring your vision to life.
Behind the scenes
Got five minutes? Watch a pro webinar in the making.
Request a quote
Things we get asked
What's this all about?
We'll produce an engaging, powerful live webinar for your brand, business or organisation, stream it and record it. Your presenter and guests can be virtually anywhere. Your audience will experience a broadcast with a TV show feel, instead of just watching a video call.
Webinar or webcast?
Both. The word "webcast" is sometimes used to describe a live stream which resembles a TV show - and "webinar" when it is closer to being a seminar. When it comes to webcast vs webinar, we don't mind what you call it - we cover the whole spectrum between the two anyway.
How does it work?
We use professional broadcast-quality equipment to join all the elements together to bring your content to life. For example, we have dedicated hardware liking directly to Zoom's systems, so each of your contributors has their own line into our mixing desk.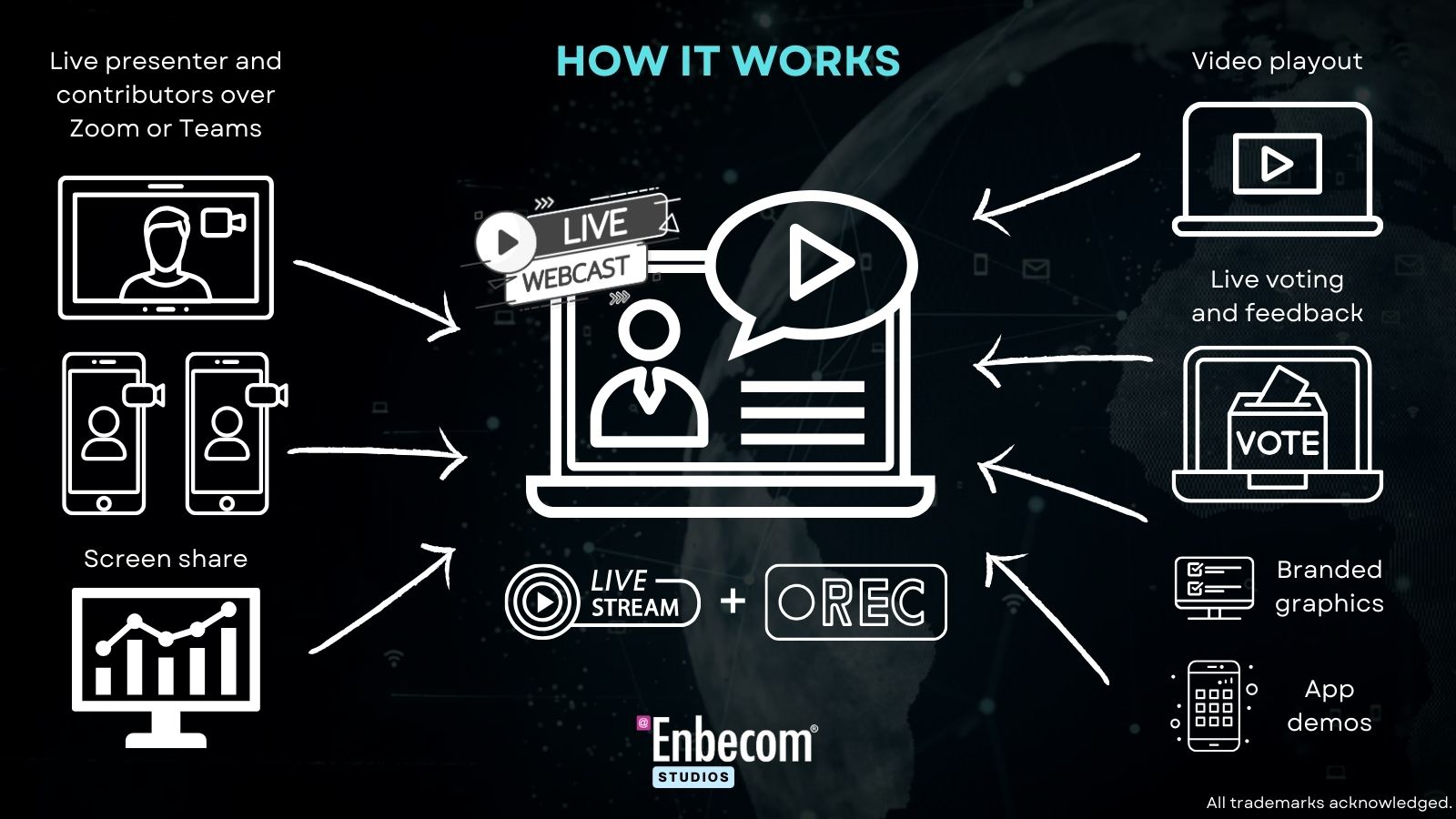 What can we do in the event?
Speak to your audience, interview guests, give viewers a live tour, show pre-produced videos, demonstrate a mobile app, show off a website, share your screen, make a presentation, do live polling, run a quiz, play audio clips. Let us know and we'll quote for it.
Where can you livestream to?
Pretty much all the major video hosting sites and social media platforms, or to a service such as Restream.io which lets you stream to multiple platforms simultaneously.
Can you help with graphics, videos, a presenter...?
Yes, we can produce opening titles, closing credits, animated name straps, logo stings, information slides, maps and more. We can also produce full-length feature videos to show during your webinar. Need a professional presenter? We can help with that too.
Do you record the event?
Yes. We'll record the event as live. When it's finished, we'll tidy up the recording and send it through to you. It'll be a great asset for your website and social media channels. We can also produce highlights packages and social-friendly soundbites.
When you say "tidy up"...?
Included in every webinar's post-production process, you'll get a ready-to-use video, from opening titles to closing credits, with any large pauses (such as Zoom connection problems) cut. We also have enhanced services available, including more in-depth edits.
Can you help with accessibility and translation?
Yes. As part of our post-production process we can offer subtitles and British Sign Language as add-ons to the service. We can also arrange subtitles in separate languages, to help you reach an international audience.
What equipment do you use?
Getting geeky for a moment, the highlights are ZoomISO, PlayoutBee and CasparCG all on dedicated hardware, plus we have direct connections to iOS, Android, Windows, macOS and Linux devices for demonstrations. We have a gigabit full fibre connection to our studio.
How much does it cost?
Rates are based on on what you need before, during and after the event, so please get in touch for a personalised quote. You might be surprised at how budget-friendly it can be, especially if you're producing some of the video assets at your end.
Who are you?
Enbecom Studios is part of Enbecom. We've been around since 2002 and as well as being a webinar production company we also offer web and other IT services. Our web business can be found at enbecom.net.